Welcome to the Fanfare of Adolescence Wiki!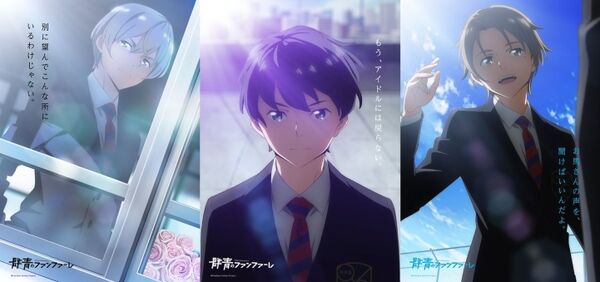 Aniplex announced a new original television anime titled Gunjou no Fanfare (Fanfare of Adolescence) during the BS11 Horse Racing program on Saturday. The production company opened an official website, revealing the main cast, staff, three teaser visuals, and a teaser promotional video. The anime is scheduled to premiere in Spring 2022.
Synopsis
The story follows three 15-year olds boys who go to a prestigious horse racing academy to become jockeys. The three-year academy is 10 to 20 times harder to enter than most schools and whoever wishes to enter must pass an academic, physical, and fitness test.
Formerly a member of an idol group winning fans and fame, Yuu Arimura sets out to meet what his heart desires after becoming enamoured with horse racing. Having grown up on an island, Shun Kanami has always yearned to ride with horses. Amane Grace was born in England and is lost in the path his parents have set for him, but he still takes on his dream.
Cast
Yuu Arimura: Shougo Yano (Given) Shun Kazanami: Shinba Tsuchiya (Bakuten!!) Amane Grace: Natsuki Hanae (Hoshiai no Sora)
Staff
Director: Makoto Katou (Yagate Kimi ni Naru, Lord El-Melloi II Sei no Jikenbo: Rail Zeppelin Grace Note) Character Design: Hiro Kanzaki (Eromanga Sensei, Classroom☆Crisis) Music: Hiroyuki Sawano (86, Shingeki no Kyojin) Studio: Lay-duce (Araburu Kisetsu no Otome-domo yo., Magi: Sinbad no Bouken)
Official site: https://fanfare-anime.com/ Official Twitter: @fanfare_anime